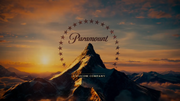 Paramount Pictures Corporation 
(commonly known as
​Paramount Pictures 
or simply
​Paramount
, and formerly known as 
Famous Players-Lasky Corporation
) is a American film studio, television production company and motion picture distributor, consistently ranked as one of the "Big Six" film studios of Hollywood. It is a subsidiary of U.S. media conglomerate Viacom, Paramount is a member of the Motion Picture Association of America (MPAA). It has distributed various commercially successful film series, such as 
Shrek, Transformers, Mission: Impossible, Marvel Cinematic Universe 
(2008-11), 
Titanic, Indiana Jones 
(1981-2008), 
The Godfather, Star Trek, Jack Ryan, Jackass, The Bad News Bears, Beverly Hills Cop, "Crocodile" Dundee, Paranormal Activity, Friday the 13th ​​
and 
G.I. Joe
. It's the world's fourth largest major film studio.
As of 2014, Paramount Pictures because the first big Hollywood studio to distribute all its films in digital-form only.
Trending pages
All items (52)
A
B
C
D
F
G
I
J
K
L
M
N
P
R
S
T
U
W